Who We Are...
Sarah Perley
grew up with her parents Jim & Madylon Perley and her older brother James in a small town in Western Iowa. She attended
Midland Lutheran College
in Fremont, NE, and graduated with honors and on the Dean's List, earning a bachelor's degree in psychology with a minor in English. She currently resides in Omaha where she is pursuing her master's degree in community counseling at the
University of Nebraska at Omaha
. Sarah finished her first semester at UNO with a 4.0 grade point average and was offered an assistantship through the College of Education. She enjoys reading, painting and watching her favorite TV shows.
David Wiegman grew up with his parents Paul & Linda Wiegman in a not-quite-as-small town in North-Central Iowa. He also attended Midland Lutheran College and graduated with honors earning a bachelor's degree in Journalism, concentrating in the print and broadcast mediums. He also lives in Omaha and is currently employed at KETV Channel 7 (Omaha's ABC Television Affiliate) as the morning graphic artist/production assistant. He enjoys working on computers, playing video games and watching movies.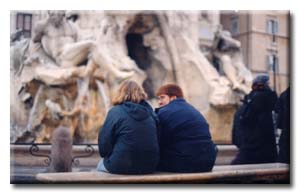 How We Met...
We first met each other at college. Even though David sat right behind Sarah in Astronomy class the first semester of our freshmen year, we didn't really get to know each other until the next semester. We became better and better friends throughout our sophomore year, but it wasn't until that summer when we started to realize the feelings we were developing for each other...well, at least, everyone else seemed to notice that. Finally on September 10, 2001 David was able to muster up the courage to ask Sarah out on a date which was answered with a whole-hearted "Okay." From that moment things just kept getting better and better. After four months of dating we took the opportunity to travel to Europe together for one of Midland's interterm classes. By the time summer came, we realized it would be a tough ordeal to be away from each other until classes resumed in the fall. Periodical letters, phone calls every few nights, daily conversations on the Internet and bi-monthly orthodontic appointments for David helped the time pass quicker. By our first year anniversary we both knew that our relationship was something very special. About this time, Sarah knew she needed to get serious about applying to graduate schools to continue her education. David tried to keep up with the dozens of choices knowing that he would be fully prepared to travel to wherever she was accepted to find his first job in the same area where she'd be studying. When mid-Spring came around, Sarah got the letter she'd been waiting for: The University of Nebraska at Omaha had accepted her into their counseling program. We both saw this as a blessing; not only had she been accepted into a program she was truely excited about, but it was in an area we'd become familiar with throughout our lives, was close to family and even closer to our friends who were still finishing up college. That summer as Sarah prepared to start graduate school, David began his apartment and job searching, eventually finding both. By the time our second year anniversary of dating came around, we had what we had been hoping for since the year before: A grad school, a job and each other in the same city.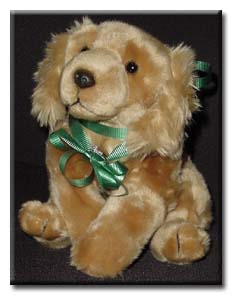 The Proposal...
The question was popped on December 19, 2003, 2 years, 3 months and 9 days since we started dating. Sarah came to David's apartment after dropping one of her roommates off at the airport to find he had prepared one of her favorite meals for her - French Onion Soup. After a candlelight meal, David led Sarah into his living room and sat her next to a warm fire in the fireplace. He told her how much she meant to him and how he wanted to spend the rest of his life with her. He then handed her a bag with a plush golden retreiver puppy inside. As she picked up the stuffed animal she saw that tied to the green ribbon around its neck was a ring. On one knee, David untied the ring and slipped it on Sarah's finger, asking her to marry him. After an enthusastic "Okay!" she provided the more traditional answer of "yes." The rest, as they say, is history.
You may email us at sarahanddavid@wiggink.com
Following the wedding, we will make our new home at:
11623 Burt Street, Apt. #R16
Omaha, NE 68154
people have visited our page.